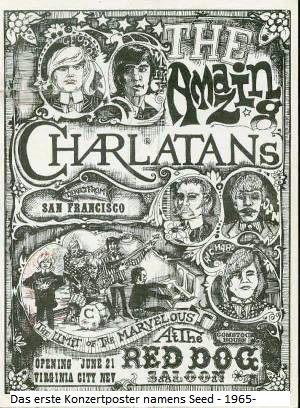 P
S
Y
C
H
E
D
E
L
I
A
steht nicht nur für eine spezielle Rockmusik sonder nicht zuletzt für alles entrückte, verschwurbelte, formlose, zellulare.
Vielfach gabe es Specials in Ausgaben des Musik Express oder Good Times neben einer großen Zahl von Spezialmagazinen wie Shindig, Ugly Things oder Flashback.
Bands wie die Temples,
The Black Angels
, Wooden Shjips,
Tame Impala
oder
The Flaming Lips
führen die Band-Traditionen teilweise fort.
Der Autor
Aldous Huxley
und der Wissenschaftler
Humphry Osmond
prägten das Kunstwort "psychedelic" in Erfahrungsberichten, die sie durch Experimente mit bewusstseinsverändernden Substanzen machten.
Eine von Desorientierung, Entfremdung und Rationalismus enttäuschte Generation flüchtete, mitte der 60er, zunehmend in eine irrationale Welt von Bewusstseinserweiterung, östlicher Religionen, Esoterik und Musik.
Das Erzeugen von Trance, Rausch und Ekstase wurde breitwillig aufgesogen.
Alles, was zu außerordentlichen Wahrnehmungsfähigkeit führte war "psychedelisch".
Damit wurde ein geeigneter Begriff gefunden, der sich schnell um die ganze Welt verbreitete.
Ein charakteristisches Merkmal der
Psychedelia
ist die Vermischung unterschiedlicher Techniken.
Film, bildende Kunst, Mode, Sound und Philosophie wurden zur Einheit und zum Gruppenerlebnis eines neuen Lebensgefühls.
Schnell kam die Etikettierung als "
Hippie
" und "
Flowerpower
" und der damit verbundene industrielle Ausverkauf.
Trotzdem ist es sicher nicht übertrieben von der "Revolution der 60er-Jahre" zu sprechen, die sich auf die Jahre 1965 - 1970 eingrenzen lässt.
Viele Veränderungen von damals bilden die Peripherie, der Rockmusik bis heute.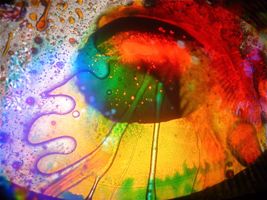 Man denke nur mal an Lightshows, an Klangtüfteleien im Studio und Konzertsaal, Plattencovers, Magazinen, Poster
Wah Wah
-Pedal,
Fuzzbox
oder Rückkopplungs- und
Phasing
- Effektgeräten.
Oder auch das spielen mit Stilen und Genres, sowie der experimentelle Umgang mit Songstrukturen.
Der Niedergang des Psychedelic Rock war dennoch nicht aufzuhalten.
Besonders der Missbrauch von Rauschgift wurde zum Problem und die Musikindustrie kontrollierte zunehmend das Business.
Anfang der 70er gab es einen Wandel Richtung Landkomunen und erdigeren Klängen.
Der Handel mit Rockmusik wurde zum ganz großen Geschäft gemacht.
Die einstigen Hochburgen
London
und
San Francisco
verloren an Anziehungskraft.
Weiterentwickelt und verfeinert hat sich das ganze zum "
Progrock
" oder "
Spacerock
".
Um das Thema "
Psychedelic Rock
" soll es sich in diesem Thread drehen.